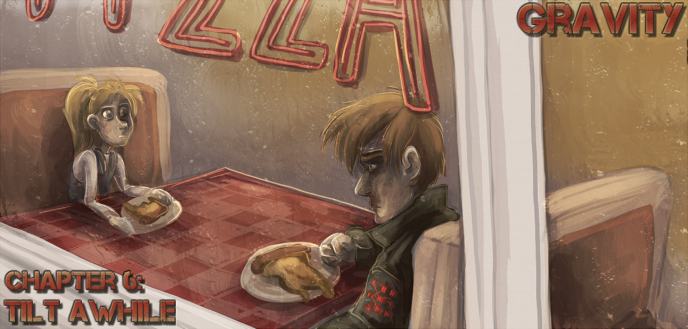 Title
: GRAVITY
Chapter
: 6 (
Tilt Awhile
)
Author
:

phantastus
Fandom
: Silent Hill
Rating
: G-PG
Genre
: Drama/Angst
Main characters
: James Sunderland, Laura
Summary
: After tying up his loose ends, James is confronted with one last snag: what is he supposed to do with Laura, who he comes to realize that he knows very little about?
Notes
: Chapter 6 of my ongoing, obscenely long SH2 fanfic. Set directly after the Leave Ending, but contains heavy implications of In Water. The fic is mirrored over
here
along with several subsequent chapters, but I will be posting the most up-to-date edits here for the time being.
This story was initially written (and is still in progress) for NaNoWriMo 2009.
Disclaimer/Warnings
: In keeping with the source material, this fanfic depicts events and situations that may be considered violent or cruel. If anything in the Silent Hill series triggers you,
this story may not be for you
. This chapter deals with potentially-upsetting concepts including but not limited to:
-general horror concepts
-mentions of murder and gruesome imagery
-references to terminal illness
-vague references to cult-related/ritualistic child abuse
-sympathetic criers beware: this chapter is a doozy.
-flagrant connections to previously-nonrelated games in the series

Please read at your own risk.
Recommended Listening:
-
Capsize
-
Friends
-
Send Me On My Way
( C-A-P-S-I-Z-E all the way home, I'm gonna tilt awhile. M-I-S-S-M-E all you want, you're gonna wait awhile. )
Current Mood:

optimistic
Current Music: "Capsize", Karen O and the Kids